Sunflower Garden Wedding Site Basic Package: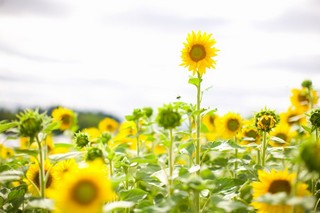 We'd love to assist you in providing not only a location for your wedding, but personal helpful attention to the details that complete your big day.
We are available to answer your questions and to assist you in anyway possible.
Our basic package includes the following items:
Discussions with our wedding planner regarding your desired setup, colors, and personal preferences during the next few months.
Meeting two weeks before date onsite to discuss all details and walk thru area.
Prior day to your wedding:
Lawn will be cut and prepared

Setup of awnings, chairs, tables

Tables covered with plastic

Up to 100 sunflowers available for cut flowers

Arch put in place at wedding site

Rehearsal time arranged with you
Day of wedding:
Dressing room in-house for bride

Tent available for groom

Photography available anywhere on farm before or after wedding

Placement of sign and balloons at road

Provide greeting attendant and parking instructions

Grounds attendant available onsite for entire function

Full children's play structure with flag

Sound system and whisper generator

200 chairs for wedding service facing sunflowers with arch

Reception area to seat 200 at tables with 20x60 awning

Food awning 20x20 with serving table
This basic package costs $3500 which is due on the following dates:
$2,000 non-refundable is due to hold your date.

The remainder is due two weeks before your wedding date at time of walk thru
There are many additional items that we can help you with that are not included in the basic package. Review optons here.
In today's busy world many couples don't have time to address all the details necessary to plan a wedding celebration and we would be honored to help relieve the stress by putting together the package that best fits your needs while keeping costs as low as possible.
We appreciate your business and your budget.

Contact me to make your reservation.
(2010 already has dates being filled)
I can't wait to make your wedding into the memory of a lifetime! - Jill
email Jill: